Finally, it's the season of the summer vacation, but sometimes the destination on your mind is a little too far away. Like, being completely fictional and you can only visit in your dreams far away. Literally.
Sometimes those dreams can turn into reality if you're visiting Disney, but what about those other wonderful places that Disney hasn't yet made an amazing theme park for? In the spirit of warmer weather and daydreaming during sunny days while you're stuck at work, here are some summer vacation looks perfect for 6 fictional get-aways.
Because even if we can't visit these places IRL, they still provide great inspiration on what to pack and style for your real life summer vacation adventures.
Summer Vacation Looks Inspired by Fictional Get-Aways
Ilios – Overwatch
Okay, this one might be cheating a bit since the scenery of Ilios technically exists on the gorgeous coastlines of Greece and its surrounding islands, but hey, the exact location of Ilios is still made up!
The handful of maps for Ilios in the game Overwatch are some of my favorite and not just because I happen to have Lucio in my rotating list of mains (and booping unsuspecting enemies off ledges…It's just soooo fun on Ilios). It is also a very colorful, fun locale, especially the Ilios map for the lighthouse. Doesn't this simply look idyllic?
To keep in theme with the Greek and Mediterranean vibes this location provides, packing for Ilios means frilly, feminine designs with bright and crisp colors. Off-the-shoulder tops paired with airy pants or skirt matches nicely with a day trip to grab some Instagramable scenes and good food in a Greek inspired seaside town.
What should you pack for your Ilios vacation? (Besides a decent healer):
Sky blue off-the-shoulder tops or dresses
Strappy sandals
Crisp white linens or cotton outfits
Fun rompers
Gold accessories
Scarif – Star Wars: Rogue One
The beautiful tropical setting of Scarif would be rather fun to explore, especially before the whole Rogue One thing and Imperial occupation happened.
Scarif seemed to resonate with people who saw Rogue One, myself included. It's certainly not the first tropical setting we have encountered in a Star Wars movie. There was also Chewie's home planet of Kashyyyk for example. However, this location in particular just felt so much more real. Probably because Rogue One itself was such a great movie.
The sandy beaches and swaying palm trees on Scarif look absolutely inviting in more peaceful circumstances and I bet it would have been a hot spot for tropical vacations in the Star Wars galaxy.
When I think of summer vacation looks for a location like Scarif, bathing suit outfits come to mind immediately (obvs). Wearing your favorite bathing suit with a shawl along with some fun extras such as those palm tree slippers make a fun combination in the sun.
What should you pack for your Scarif vacation? (Besides a blaster and droid):
Beachside wrap or shawl
Swimsuit
Slide shoes or flip-flops
Canvas bag (for last minute adventures across the islands!)
Pride Rock – The Lion King
Pride Rock is another place vaguely/technically found in a real life destination, but there is only one Pride Rock!
Who doesn't want to go backpacking in the land that all the light touches from the Lion King? You could trek to the top of Pride Rock yourself and take in the near endless sights surrounding you.
Yes, there was a Pride Rock at DisneyWorld at one point–and I'm sure there still is at an international location or somewhere I haven't looked up yet–but like I said, there is really only one Pride Rock and I think it would make for a really fun summer vacation regardless!
Don't be afraid to get really utilitarian with this inspired look, it is all about chic meets camping. That means roomy cargo pants, easy tank tops, and your trusty knapsack for long, sightseeing hikes and adventures. However, you can still "glam" up this look with raw stone jewelry that provide a pop of color.
What should you pack for your Pride Rock vacation? (Besides a copy of Hamlet)
Cargo pants or cotton pants
Loose fitting tanks for airy morning and evenings
A good pair of hiking/backpacking boots
Pop of color from accessories such as jewelry
Asgard – Thor
I will admit: creating a look for Asgard was difficult. The Asgard of the Thor comics and Marvel universe is very, very colorful but does have the main theme of glittering gold. Throw in Norse/viking themes and you have yourself an interesting mix of gaudy and warrior culture for summer vacation looks inspired by Asgard.
For some reason I kept getting vibes of a short weekend similar to going to Las Vegas. You're in the world of gods who celebrate glory on the battlefield and can just hang and chill all they want–you're probably going to party it up there, right?
So, for a night on the town in Asgard, you'll want to go big and flashy. Gold to match the world with black accents such as these clear boots, dagger clutch, and of course a little bit of flair that probably looks familiar. 😉
What should you pack for your Asgard vacation? (Besides strong coffee):
Gold metallic or shimmery cocktail dress
Towering booties or strappy heels
Mixed metal jewelry
Sunspear – A Song of Ice & Fire/Game of Thrones
This locale is way on top of my personal list of summer vacation looks because I'm a total desert rat. I absolutely love planning trips to a desert or arid location and when I started to read A Song of Ice and Fire, I immediately fell in love with the desert kingdom of Dorne where the badass Oberyn Martell hailed from in Game of Thrones.
Sunspear is the capital of Dorne and sounded like a paradise oasis in the books, although I was a little disappointed with its portrayal in the show (especially of the Sand Snakes, wow, way to drop the ball). So, I decided to base this outfit more on the book description than its TV show counterpart.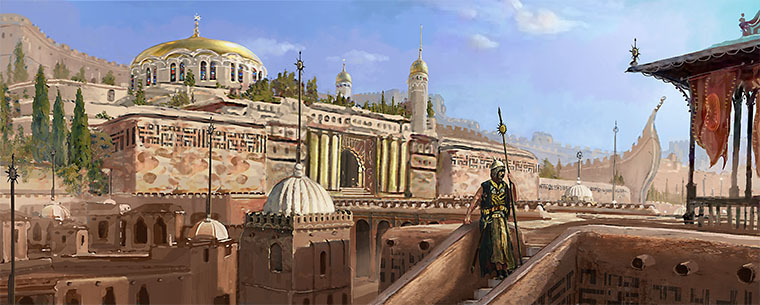 It's all about loose-fitting layers with gold accessories while Sunspear. Think flowy dresses, strappy tops, and shorts and skirts accented with luxurious bangles and necklaces.
What should you pack for your Sunspear vacation? (Besides poison antidote):
Orange hues in dresses and other outfits
Strappy sandles (or go barefoot!)
High luxury gold accessories
Small clutch or bucket bag
The Shire – Lord of the Rings/The Hobbit
For a relaxing countryside vacation, where your worries can melt away, why not visit the peaceful rolling hills of Hobbiton and the Shire from Lord of the Rings? Bed and breakfast places would be absolutely booming here and then you could visit a brunch location, grab some Elevenses…
You probably noticed a familiar sight in this outfit. I used the same knapsack from the Pride Rock one, partially by accident, but let's just say it was on purpose. Maybe you want to take two trips in the summer! This is another one of the summer vacation looks that is high on my personal life (and the Shire set location in New Zealand is definitely on my Bucket List).
When in the Shire, might as well blend in with the locals and bring along some comfortable outfits. You need this break after all!
What should you pack for your Shire vacation? (besides decent pipe weed):
Cotton or gauzy pants with ribbon/ties
Matching fabric in your shirt
Cozy sweater for those cooler nights
Knapsack for potential adventuring
Summer vacation looks inspired by our favorite fictional get-aways can be near endless in their inspiration. Hopefully this sparks some rummaging through your own closet or a bit of retail therapy for your next trip!
What are some fictional locations you totally want to see in real life? Let me know in the comments!