The awesome thing about the Internet is discovering a community you absolutely, 100% feel at home in. There is pretty much something for everyone and this especially includes the geek fashion community. In fact, the community has grown so much that you can find many sub-communities such as Casual Cosplay, Everyday Cosplay, DisneyBound, and variations of other geek fashion.
So, what's the difference between the "Big Three" of Casual Cosplay, Everyday Cosplay, and DisneyBound? Is there a difference? That is exactly what this guide is here to help you with. Read on for the full details!
What is Casual Cosplay?
There are two definitions for Casual Cosplay, but the popular of the two refers to exactly that: a casual, "laid back" cosplay costume for conventions.
(Source from KylaCovert Instagram)
Whether you DIY the costume or find the perfect outfit at a store, Casual Cosplay is meant to be fun and a way to give a new look to your favorite character. Casual Cosplay is great because sometimes a character's actual costume is just way too much while trying to maneuver a super busy con, and after a full day of walking and waiting in lines, it also becomes incredibly tiring.
Depending on how casual the Casual Cosplay happens to be, it can go into the territory of being an everyday outfit that you can wear. That is why the definition is a bit loose and can mean different things for people. However, as seen from Kyla's Casual Cosplay of Mercy from Overwatch, a different take on a costume is perfectly reasonable.
TL;DR Definition – Casual Cosplay is typically meant to be a more laid-back version of a cosplay for cons. Think of it as the outfit a character wears on their "day off."
What is Everyday Cosplay?
You know when you see an outfit on Instagram that is absolutely on point but also seems to be inspired by a fictional character? What you're seeing is Everyday Cosplay!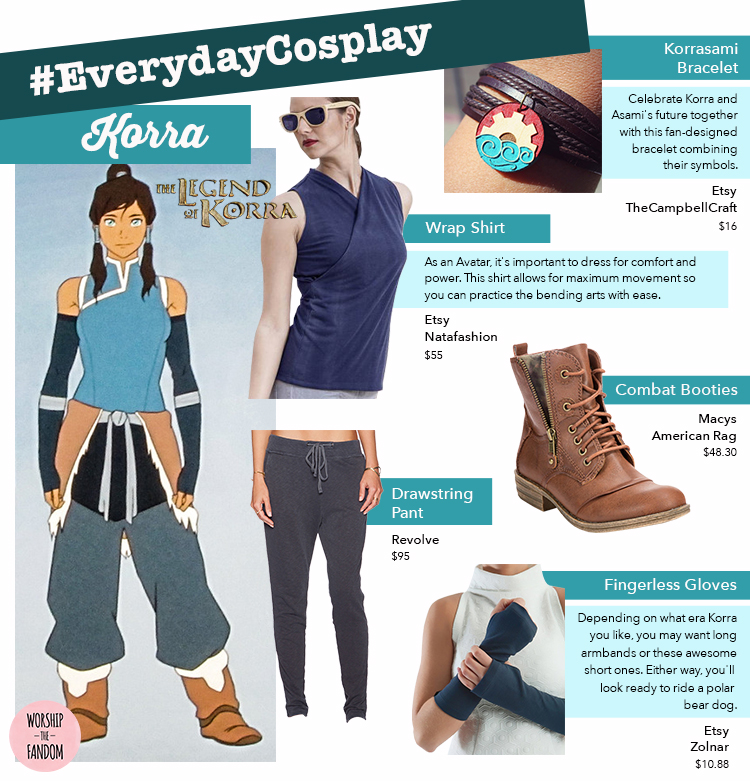 (Source from WorshipTheFandom)
Everyday Cosplay is the act of finding every day, daily outfits that are inspired or in some way represents a fictional character. Whether that is the color scheme, their personality, or a combination of a couple things, Everyday Cosplay represents a big community and also happens to be incredibly fun to participate in. 🙂
TL;DR Definition – Putting together an everyday outfit inspired by your favorite character through a theme or multiple themes (color, personality, styling type, and so on).
What is DisneyBound?
It's crazy to think Disney gets its own community of stylish geeks, but it's true! DisneyBound is the act of putting together outfits inspired entirely by Disney characters–this also includes Marvel, Star Wars, and Pixar. DisneyBound typically refers to park-goers creating outfits inspired by characters but it has now become common to DisneyBound even when you're not headed for a park.
A common sub-culture of DisneyBound is the vintage look, especially for things like Dapper Day at certain parks. Whatever fits your style, you can find a way to bring in a little Disney magic. 🙂
TL;DR Definition – When you create outfits inspired by Disney characters, including Star Wars, Marvel, and Pixar and either wear them to a Disney park or as an everyday outfit.
How can I add these to my wardrobe?
This is where the fun begins!
How exactly can you incorporate Everyday Cosplay into your wardrobe? How about DisneyBound? The magic answer to those burning questions is simple: it is up to you. Yeah, yeah, maybe that's a little lame but also happens to be entirely true!
The geek fashion community is meant to be inviting, engaging, and most of all, inclusive. Be comfortable in what you're wearing (and hey, you wanna try something new? Go ahead!) but also have fun. Pick out some of your favorite characters from your favorite fandoms and start mixing and matching outfits from your closet, DIY them, or even buy a completely new–or thrifted!–outfit.
Which of these is your favorite? I probably spend way too much time coordinating Everyday Cosplay outfits in a given week!